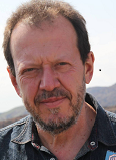 Prof. Dr. Eng. Petar Penev
University of Architecture, Civil engineering and Geodesy – Sofia ,The Republic of Bulgaria
Brief Introduction
Professor, Dr at University of Architecture, Civil engineering and Geodesy – Sofia (UACEG). Dean of Faculty of Geodesy (2000 – 2004), Head of Department of Photogrammetry and Cartography (2004 – 2008), Vice-Rector of UACEG (2008 – 2016).
Lecturer in Cartography, Thematic Мapping, Web Cartography, Map design and production in UACEG. Research interests in the field of Cartography: Geographic Information Systems, Space mapping, Thematic and Internet-mapping.
Member of the Board of Bulgarian Cartographic Association (BCA). Member of the Board of Bulgarian Association Intelligent Transport systems (BAITS).